Your Local Service
Professional
Home Lockout
Service
we are available 24/7

wE OPEN ANY LOCK ANY TIME

mOBILE LOCKSMITH SERVICE
locked out of your house? Key is lost, broken or locked inside ? Your garage door remote requires re-programming?
Call us now, We get you back into your home safely and quickly.

Fast Locksmith service 24/7 in Your Locationplease:
100% Customer Satisfaction Guaranteed!
No one wants to deal with being locked out but,unfortunately, it can happen to anyone. Whether you accidentally drop your keys sometime throughout the day, or just walk out of your house without them during the morning rush, losing your keys is far too easy. Knowing what to do and which same-day locksmith to call if you end up locked out of your home makes all the difference.
Emergency Locksmith in Salt Lake City:Available 24 hours
Even though no one plans to lock themselves out, it seems lockouts happen at the most inopportune times—that's why we offer 24-hour locksmith services. Day or night, rain or shine, we've got your back, and we respond fast.
Our locksmiths travel in state-of-the-art mobile locksmith stations packed with all the latest tools to open any lock, but more importantly, all the tools and components necessary to open any lock, and even repair it if need be.
Since there is no need to pack things up or organize everything we need beforehand, ouranytime locksmith can merely jump into their vehicle and head straight to your home. This means you can have a locksmith at your home fast without having to worry about any complications.
Why Choose S.O.S Mobile Locksmith
We can access your home through any door you like.
Our house locksmiths can work on both standard wooden doors and sliding glass doors. There's no need to worry about trying to get in through a specific door type. We can open any lock, even vehicle, file cabinet, or safe locks, all you need to do is prove it belongs to you, and we'll help you gain access quickly and efficiently.
Our rates are fair and affordable.
Before you agree to a lockout service, make sure you get the costs quoted to you up front. You don't want a pro locksmith business to take advantage of your urgent situation. With decades of experience and highly satisfied customers behind us, you can trust us to treat you right with a fair pricing structure. Customer satisfaction is at the forefront of our priorities.
We're an all-in-one service.
Some locksmiths will come to an emergency lockout, open the door by any means possible, and leave you to deal with the rest. At S.O.S Mobile Locksmith, we don't leave until your issue is fully resolved. This includes replacing your keys, reprogramming them if applicable, repairing the lock if damage was the issue, cleanup, and anything else necessary to ensure you have nothing more to worry about.
Contact S.O.S Mobile Locksmith for All Your Locksmith Needs
Need a locksmith now? No need to Google, "nearest locksmith near me." Give S.O.S Locksmith a call.
We certainly hope you only have need of our emergency locksmith services once, but likewise, hope you save our number. We offer a range of non-emergency services as well such as lock and security system installation or repair, spare key creation, rekeying, and more. We're here for all your locksmithing needs in the Salt Lake City area.
100% of your satisfaction

Same day appointment

Best Lock - parts -Hardware

Best Locksmith service practices

Nice, professional and knowledgeable personel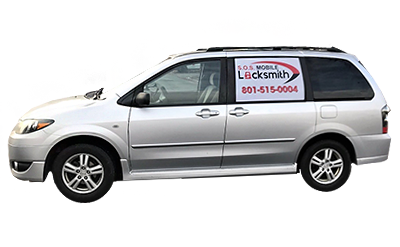 For Local locksmith service in
Salt Lake City, UT
call now
or send us a message
Keep Calm And Let Us Handle It!
100% Customer Satisfaction Guaranteed!