Your Local Service
Professional
Automotive Locksmith Service

Any Make/Model

Remote car key

fob, smart key

same day service

Fast Locksmith service 24/7 in Your Locationplease:
100% Customer Satisfaction Guaranteed!
Automotive Locksmith in Salt Lake City
If you find yourself searching for, "companies that unlock car doors," chances are good you're having a bad day. We've been there, and we know how it feels. That's why we're on-call 24/7 to help.When the worst happens, and you can't get into your vehicle for whatever reason, don't turn to just any local automotive locksmith,choose the best. Choose S.O.S. Mobile Locksmith.
Automotive Locksmith Service in Salt Lake City, UT
In years past, in the event of a lockout, a car locksmith just had to use a simple jimmy or make a new key to open your door. While that is still sometimes the case, most auto car keys and locks have changed. Many newer model vehicles use a car transponder system, which locks the doors and ignition if the key fob isn't close enough to the car.
This new technology does decrease the risk of theft, but it also makes getting into your car more difficult if you lose your key, lock it inside, or it becomes damaged. A problem with this system also might make it impossible to crank your vehicle, even once you're inside.
Your Local All-in-One Locksmith
It's not hard to find a locksmith if you just need car keys made, but S.O.S. Mobile Locksmith is the nearest locksmith for cars thatoffernot only key cutting and car key reprogramming, but a truly all-in-one locksmith service.
There are many different car lockout service providers, but some don't have the training and experience necessary to do the job without causing damage to your vehicle. In fact, some auto locksmith services are unable to help with anything other than getting keys made for a car, which means that if your problem is with your lock or an electronic problem, they'll show up, charge you, and you still won't have a vehicle you can use—not with S.O.S Mobile locksmith. We can handle everything from car door lock repair to ignition replacement, and everything in between.
We Will Get You Back on The Road in Salt Lake City
Our experienced locksmith team at S.O.S. Mobile Locksmith knows exactly how to diagnose your problem and solve it. When our mobile locksmith unit shows up at your location,  they'll quickly figure out what needs to be done to get you back to your schedule.
Our locksmiths have all the equipment they need with them when they arrive—no waiting for them to "run back to the shop" for parts or supplies. If your car key is jammed, your vehicle isn't recognizing your transponder key, or even if your lock or ignition switch just won't work, our staff can handle it.
And the best news? Many insurance companies consider this as "roadside assistance," which means your insurance may reimburse you for our help! Emergency lockout service from S.O.S. Mobile Locksmith is more affordable than you might imagine, so don't sit around in a parking lot trying to figure out what to do, call us. We'll be on the way and you'll be back on the road before you know it.
100% of your satisfaction

Same day appointment

Best Lock - parts -Hardware

Best Locksmith service practices

Nice, professional and knowledgeable personel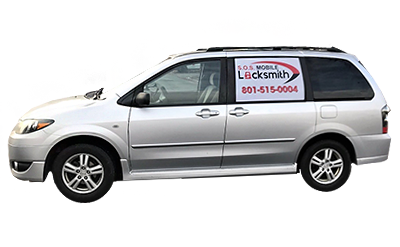 For Local locksmith service in
Salt Lake City, UT
call now
or send us a message
Keep Calm And Let Us Handle It!
100% Customer Satisfaction Guaranteed!