Your Local Service
Professional
High Security Locks
Installation
We Have all locks brands

We offer competitive prices

local locksmith company
If you need help trying to determine which locks will work for your door, and for other parts of your door, do not hesitate to give us a call so we can go over the options for your new lock installation.

Fast Locksmith service 24/7 in Your Locationplease:
100% Customer Satisfaction Guaranteed!
High-Security Locks Salt Lake City
Are you worried that someone might pick your lock and steal your property? Do you have a lot of valuable things that could be stolen? If you're looking for a high-security locks service near Salt Lake City, look no further than S.O.S Mobile Locksmith.
High-Security Locks Installation in Salt Lake City, UT
As experienced locksmiths, we understand and appreciate the importance of home security. We want to make your life better and keep you safe—that's why we offer high-security locks at affordable prices.
We specialize in high-security door locks that will give you a sense of safety and keep you and your valuables secure. Since high-security locks are drill-resistant and impossible to pick or bump, upgrading will make your lock system significantly more effective.
Our high-security locks are so advanced that they include digital keypads and bio-metric scanners which greatly increase your security level. We offer everything that can help you protect your business and family – from professional-grade digital lock systems to cutting-edge high-security deadbolt locks.
With over ten brands and manufacturers of high-security padlocks, we aim to bring you the peace and security that you deserve.
Why You Need High-Security Locks
Dangers of Picking and Bumping
Let's face it – traditional locks are very easy to bump and pick. That's why an ordinary, standard lock won't protect you for very long. Aside from being easily picked and bumped, a traditional lock can also be broken with a crowbar or any other sharp tool. On the other hand, our high-security locks can't be picked, bumped, or broken. They're practically impenetrable, which makes them durable and reliable.
Lock Picking
Lockpicking is something that's not hard to learn, which is one more reason to buy a high-security lock. Those who know how to pick a lock will often use various shapes and picks which are then inserted into the slot where wrenches are used to apply the twisting motion of a key.
Worse, these days you can purchase lock-picking auto guns which eliminate the need for any skill and make picking locks even easier. Thanks to our high-end high-security locks, you'll be able to protect yourself from attempts such as this.
Lock Bumping
Lock bumping is a newer technique than lock picking, and it's a hit-and-miss procedure which is more dangerous when used on old locks. A key is cut in a way that allows it to fit a particular lock and then bumped to make the pins inside the lock move. Our locks are protected from this too.
Long-lasting Solution
Our high-security locks will last you a lifetime. We use only the best materials, and our cutting-edge technology allows us to make a lock that can't be broken even with sturdy tools, especially a crowbar.
Ease of Installation
The installation of these locks is very simple for you –all you have to do is call us and book an appointment, and we'll take it from there. Give S.O.S Mobile Locksmith a call today.
100% of your satisfaction

Same day appointment

Best Lock - parts -Hardware

Best Locksmith service practices

Nice, professional and knowledgeable personel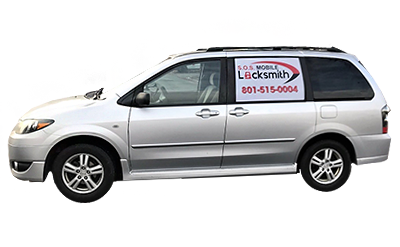 For Local locksmith service in
Salt Lake City, UT
call now
or send us a message
Keep Calm And Let Us Handle It!
100% Customer Satisfaction Guaranteed!