Your Local Service
Professional
Car Lockout
Service
Opening all types of Vehicle

satisfaction and fair pricing

Most Trusted Locksmiths

Anytime, anywhere
Locked out? Keys left in the car?
Call us now for fast service (801) 960-5591

Fast Locksmith service 24/7 in Your Locationplease:
100% Customer Satisfaction Guaranteed!
Car Lockout in Salt Lake City
No time is a good time to find yourself needing a lockout service in Salt Lake City, but when you need to get your keys out of your car, it's not a situation where you can wait until someone can "get around to it"—you need access to your vehicle as soon as possible.
Finding an auto lockout service that's willing and able to respond when you need them can be difficult, which is why our team of trained, professional locksmiths at S.O.S. Mobile Locksmith are ready to goday or night, rain or shine, 24/7.
Car Lockout Service in Salt Lake City, UT
Many things can lead to the need for a locksmith lockout service. The most common, of course, is when you realize you've inadvertently left your keys in your car or truck, and the doors are locked. It's extremely frustrating when you can see your keys through your car window, seemingly taunting you while remaining out of reach.Our locksmith can open your car door in minutes, getting you back in business.
A broken, or even worse,lost car key is another common reason for the need of a car lockout service. Even if you don't have a key left to copy, S.O.S. Mobile Locksmith can still get you back into your car and on the road in no time.
Our car locksmith will arrive with all the tools and equipment required to make a new key for you. We can cut keys for a variety of makes and models, including keys that have a chip or transponder—something not every emergency car locksmith is equipped to do on the spot. We can even make you more than one copy of your key to ensure you have a spare to avoid future lockouts.
Emergency Car Locksmith in Salt Lake City
Some problems are more serious.You may find yourself holding your key, but still unable to open your car door due to a problem with the lock or electrical system. Again, S.O.S. Mobile Locksmith guarantees that every time we dispatch a locksmith to unlock a car, they have what they need to repair or replace a faulty lock or ignition switch on location for less in less time than the competition.
With our locksmiths always on call, you'll receive service any time of the day or night that you need a car door unlocked. Please remember, not every locksmith company has the trained staff to open your car without damaging the lock, which can turn a minor inconvenience into a costly repair problem. S.O.S. Mobile Locksmith experts are trained to unlock your car quickly without causing additional problems.
Don't find yourself waiting for hours only to have the locksmith that shows up cause as many problems as he's trying to solve for you.For an emergency car unlock that's fast, efficient, and surprisingly affordable, call S.O.S. Mobile Locksmith. Whenever you need us, we'll be ready.
100% of your satisfaction

Same day appointment

Best Lock - parts -Hardware

Best Locksmith service practices

Nice, professional and knowledgeable personel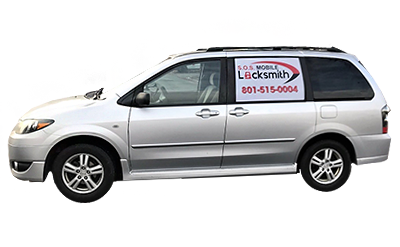 For Local locksmith service in
Salt Lake City, UT
call now
or send us a message
Keep Calm And Let Us Handle It!
100% Customer Satisfaction Guaranteed!