Your Local Service
Professional
Door Closers
Installation
REPAIR OR REPLACE

prevent slamming shut or remaining open

manual or automatic
Needs Door Closer for you business or you doors?
There are many different types of door closers, including surface-mounted and concealed. Door closers may also be manual or automatic. No matter the issue that your door has, our team can help. 

Fast Locksmith service 24/7 in Your Locationplease:
100% Customer Satisfaction Guaranteed!
Door Closers in Salt Lake City
Your garage may be used for a wide range of activities—storage, a "man cave" with a television or pool table, or even as a home-workout space. No matter what use you put it to, though, it's not nearly as useful as it could be if the door doesn't work properly.
This is an especially aggravating problem if you use your garage as, well, a garage. Either you end up having to park in the driveway, leaving your automobile subject to break-ins and vandalism, or you find yourself in a real emergency when your garage door won't open, and your car is inside!
Luckily, S.O.S. Mobile Locksmith has years of experience dealing with the various problems people have with their garage doors.
Door Closers Installation and Replacement Service inSalt Lake City, UT
As a locksmith service, S.O.S. Mobile Locksmith specializes in securing the property of both people and businesses. Our staff of experienced locksmiths are extremely knowledgeable about all aspects of security, and that includes garage doors.
Some people forget that their garage door is a part of their home security, but it is. Stuck in the open position, or even not closing fully, your garage door might as well be an open invitation to thieves to take things from your garage, or worse, gain access to the rest of your home.
Issues That Arise with Garage Doors
It's not just the motor in your opener that can have problems. Springs can break or stretch with age, cables can fray, and many other things can go wrong. Also, due to age or accidental damage, your garage door may need one or more panels replaced.
Sometimes, the easiest and most cost-effective thing to do is to have an entirely new door and opener installed. However, this isn't always the case, even if some other locksmith service has confidently told you that you need a brand-new setup, our technician may look at your situation and realize you just have a broken roller. We'll never try to sell you something you don't need.
Yes, a new installation is the most rock-solid guarantee you can have that you won't have any additional problems, but it's not always necessary. Our team is experienced, and they're trained to help, not just take your money for unnecessary repairs. Our S.O.S. Mobile Locksmith team members have one job: to get your garage door repaired or replaced at the smallest cost to you.
Choose S.O.S Mobile Locksmith
If you're having a problem with your garage door, call us. Whether you just need new weather stripping and threshold to keep your garage protected from the weather or need the comfort and security a perfectly-functioning garage door provides, we can help.
Don't trust your safety and comfort to someone whose focus isn't one hundred percent on solving your problem in the way that's best for you—call S.O.S Mobile Locksmith today for a free no-obligation quote.
100% of your satisfaction

Same day appointment

Best Lock - parts -Hardware

Best Locksmith service practices

Nice, professional and knowledgeable personel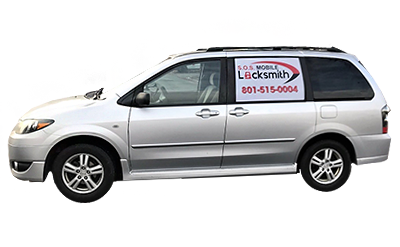 For Local locksmith service in
Salt Lake City, UT
call now
or send us a message
Keep Calm And Let Us Handle It!
100% Customer Satisfaction Guaranteed!